The Guardian Interchangeable Payload Bay
The payload bay can easily be removed in a couple of minutes. The nose has enough volume to carry several sensors including a thermal imaging electro optical system, microwave, GPS and CCD sensors. Communications interface includes RS 232, 485, 170 and RS 422. Weight is up to 50 lbs. Power is provided by airframe.

The Guardian system highlights an affordable VTOL unmanned system with an interchangeable payload bay in the nose of the aircraft.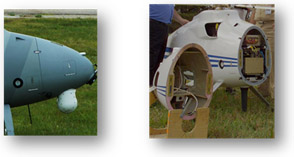 The Guardian system allows full use of multiple onboard sensors